Skip Main Content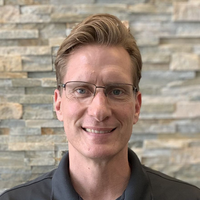 Dan Glatz PT, MPT, MS
ROLE:
Physical Therapist & Rehabilitation
SPECIALTIES:
LANGUAGES:
WE CARE ABOUT YOUR FEEDBACK!
Please take a moment and let us know how your experience was.
REVIEW US
Testimonials
Posted On

February 15, 2022

Both Dan and Bill worked with my 2 daughters over the past few months. The transition between each therapist was seamless as each of them knew my daughters' charts and what areas to focus on each session. They did a wonderful job explaining what the issues were and why each exercise was necessary. We saw dramatic improvement each week and we couldn't be happier with the results. They also somehow managed to make PT enjoyable for a teenager and a preteen which isn't easy to do. I'd highly recommend using them if you need physical therapy for any reason.

Posted On

December 20, 2021

Dan & Bill were instrumental in teaching this old dog a few new tricks. My shoulder pain has lessened & I have gained more strength thru proper exercise techniques learned here. Great job of making me feel welcome & understood. Friendly atmosphere is key here. Highly recommend this winning outfit!

Posted On

November 23, 2021

Bill and Dan were tip top in helping me recover from knee injury.

Posted On

November 17, 2021

I LOVE DAN. super funny and personable. helps a lot with physical problems but is also extremely emotionally supportive as well. all around great guy

For over 10 years, our family has gone to Dan for injuries ranging from sports-related to bad sprain to a torn cuff amongst many. I have even taken my out-of-town, out-of-country family members to at least have one-time consultation with Dan. The singular reason for that trust is his skills, experience and keen attention to listen to his clients. It is this comprehensive approach that has turned my condition from one that was labelled as PT failed at a "world-renowned sports complex" and was referred to surgery, to one where I am pretty close to my normal function. Being a physician, I can easily be critical of services rendered and Dan and his team pass all the marks beyond A+. Thank you, Dan, for taking care of me, my family, and always getting my kids back to the court at the earliest and along the way giving them the tools for healthy lifestyle.

Posted On

September 24, 2021

I have gone to Dan at Performance Unlimited following my last couple of surgeries. I have had other therapists in the past and they do not compare at all to the knowledge and experience I recieved here. I will never go anywhere else but here in the future. These guys truely helped me live a better life 100% because of the therapy I recieved from Dan. I felt so comfortable from day one because Dan took the time to eplain the medical terms on my paperwork from my doctor in terms I could understand. He also explained the injury and the recovery in a way that I could understand, and he took the time to listen to my questions and concerns during every visit. I recommend everyone to this place.

I have seen Dan for multiple issues for about 20 years. Even when doctors have given up and have said they do not know what is wrong or how to fix it, he has been able to diagnose and treat. Dan has gotten me through several injuries, and has advised how best to heal and work through them, knowing my body, lifestyle, drive to be active, interests, and mental state. The personal care and attention that Dan pays to his patients, getting to know not just the patients' issues/diagnoses, but also the actual person, sets him apart from other physical therapists. Dan genuinely cares for his patients and wants to see them healed and living life. Dan cares about not just the physical body, but also the mental/emotional state of his patients. Many people dread going to physical therapy because it can be painful and/or hard work, but Dan knows how to put patients at ease, make them laugh, and generally make what can sometimes be unpleasant, pleasant. Walking into Performance Unlimited is like walking into "Cheers." You are always greeted enthusiastically, and if everyone doesn't know your name when you first walk in, they do shortly thereafter. I have referred many people to Dan, and will continue to do so.

Chronic knee pain is no picnic. After an in-depth online search, I miraculously found Dan. My physician daughter accompanied me to my first visit to make sure I stayed. I had been reluctant & skeptical about much-needed help. Both of us were impressed beyond words with Dan's charm, knowledge, friendliness & healing hands. I never imagined that I would leave this facility wanting to return for massage, exercise & mental health improvement through laughter. Such is the case with Dan. His knowledge of his field, his ability to put you at ease & his genuine sense of humor are unique. Because of the expert treatment that I've received the past few months, I have put my complete trust in Performance Unlimited and I believe that the path to my recovery ends here. I always felt sad that when I no longer truly needed their expertise, I would be cut loose. Now I've come to learn that there is a "maintenance" opportunity for patients that allows us to return on an "as needed" basis so that our aches and pains can receive a "tweak" when necessary. This makes me so happy. I can't imagine ending a relationship that has come to be so meaningful and beneficial to my health and heart. Thanks, Dan & staff. You truly have made a huge difference in my life!

Dan is tremendous. He met with my son after a second ACL Tear. He spent time getting to know him, asking questions and making an assessment if he could rehab versus surgery. They developed a close relationship and after several months of rehab, he went on to play his final two years of high level high school soccer with great success. I highly recommend Dan as a sound professional and caring person.